December Book Club Selection: Bettyville: A Memoir by George Hodgman
The Book Club meets the first Thursday of every month from 5:30 p.m. to 6:30 p.m.  Each member has the option to select a book for the group to read.  We order books through the interlibrary loan system so there is no cost.   There are currently 10 regular attendees, but newcomers are always welcome–just to sit in or join in the discussion over a cup of coffee or tea.  The club will be compiling a reading list for the new year so now is a good time to check it out.
Wednesday Story Time Sessions Resume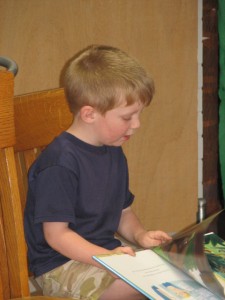 Story Time will resume on Wednesday, September 9, at 10:45 a.m. If you have never attended, the sessions last about 45 minutes to an hour, depending on the ages of the kids. We read 3 stories together and do a simple activity. It is a good way for parents or other caregivers to introduce kids to the library. Parents especially benefit from exchanging ideas with each other. You don't have to register beforehand. Any questions, such as how to obtain a library card, please call the library at 943-3016.
Ancestry.com FOR FREE 
Only from inside the library, using our computers or yours