Saturday Program at the Library
Animal Tales will return on October 3, at 10:30 a.m., in our community room.
Featured animals include a tarantula, an Emperor Scorpion, a snake (variable species), to name a few, and a mystery animal….
If your kids can't join us during the summer reading program, now is a good time to see some fascinating animals in a safe environment with a trained, experienced naturalist who will lead our educational program. FREE! Any questions, please contact the library. No need to register.
Wednesday Story Time Sessions Resume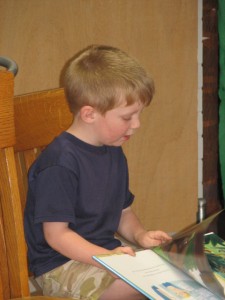 Story Time will resume on Wednesday, September 9, at 10:45 a.m. If you have never attended, the sessions last about 45 minutes to an hour, depending on the ages of the kids. We read 3 stories together and do a simple activity. It is a good way for parents or other caregivers to introduce kids to the library. Parents especially benefit from exchanging ideas with each other. You don't have to register beforehand. Any questions, such as how to obtain a library card, please call the library at 943-3016.
Ancestry.com FOR FREE 
Only from inside the library, using our computers or yours